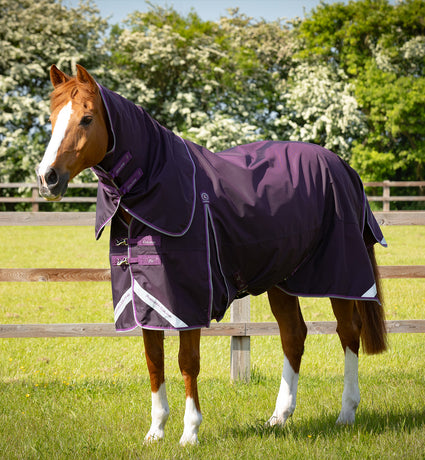 RUG TECHNOLOGY & INNOVATION
RUG TECHNOLOGY & INNOVATION
Masters in the Art of Rug Making
Combining decades of expertise in state-of-the-art fabric technology and innovation, our exclusive range of horse rugs is meticulously engineered to provide unparalleled protection and comfort in all weather conditions, ensuring horses are well cared for and comfortable in any situation.

With a commitment to excellence and a passion for equine wellbeing, Premier Equine is globally renowned for quality and innovation in the art of rug making.

Waterproof Technology
HYDROPORE OPTIMUM PROTECTION

Our advanced fabric technology incorporates two types of specialised membranes. Positioned just below the outer shell material, the unique breathable and waterproof membrane contains millions of precision-sized microscopic holes, allowing efficient air-flow, while effectively repelling water droplets.

Meanwhile, a second hydrophilic membrane, located two layers deeper, expertly draws and disperses moisture from the horse's coat, ensuring a dry and comfortable experience. This dual-membrane design enhances the rug's waterproof capabilities and protects the thermo-bonded fill, extending the rug's lifetime and maintaining peak performance for years to come.
Shop Turnout Rugs
Buster Turnout Rugs
A LEGACY OF EXCELLENCE

The iconic Buster turnout rugs represent Premier Equine's original and time-tested design. Meticulously crafted from a breathable and lightweight 840D ballistic nylon, these turnout rugs offer unparalleled durability in the field.

With weights from 0g up to 420g you are certain to find the perfect rug to suit your horse.

Evolving with time, the Buster now features an extra high shoulder gusset, providing greater freedom of movement in the field. With stainless steel fittings, these rugs are built to withstand the test of time, ensuring longevity and continued performance.
Shop Buster
Titan Turnout Rugs
UNYIELDING DEFENCE AGAINST EXTREME WEATHER

When facing the harshest weather conditions, trust in the Titan range of turnout rugs for ultimate durability and protection. Expertly crafted from 1680D ballistic nylon, these rugs are available in weights from 40g to 450g.

Designed to face the most challenging environments, Titan turnout rugs offer steadfast resilience and unfaltering protection.
Shop Titan
Deep Cut Design
UNPARALLELED COMFORT & PROTECTION

Innovations abound with our deep cut design, featuring a seamless rug that wraps snugly around the horse, held in place by low-cross surcingles. This thoughtfully engineered design ensures complete relief from pressure on the spine, prioritising comfort.

You can experience worry-free rugging as we have mastered the art of self-righting rugs, allowing the horse to move freely without the rug slipping. Our lengthened tail flaps, featuring waterproof and padded elements, provide sustained protection, resisting wind lift.

Embracing ultimate flexibility, the unique elasticated shoulder gusset design ensures the perfect fit, elevating protection and comfort to the highest standards.
Design Options
TAILORED PROTECTION FOR EVERY HORSE

Discover an array of design options to suit every horse's need, with various neck styles, including half neck (Hardy), no neck (Original), and detachable or integrated neck in classic or snug-fit variations(Storm).

We proudly offer the most extensive range of design and weight availability in turnout rugs, ensuring elite protection for all horses.
Shop Turnout Rugs
Advanced Stable Protection
ELEVATING EQUINE COMFORT

Superior stable rug technology goes beyond mere warmth and comfort. Our stable rugs are crafted to provide efficient protection, offering breathable warmth and ensuring a horse's wellbeing while stabled.
Shop Stable Rugs
Features & Fixtures
DETAIL ORIENTATED EXCELLENCE

Every aspect of our stable rug range is designed with meticulous attention to detail.
Cut 2-4" in front of the wither, our rugs allow the neckline to fall comfortably in front of the shoulder and down to the chest closure.
Strategically placed chest clip closures offer two clip position options for adjustability while all fittings are expertly crafted from high-quality stainless steel for long-lasting functionality.

The lining, made from antibacterial and anti-static material, enhances hygiene and comfort, promoting good coat health.
As a final touch, we include essential PVC coated tail straps with all Buster, Lucanta, and Hydra stable rugs, protected by an easy clean PVC coating to preserve the tail strap's durability over time.

Buster Stable Rugs
COMFORT & DURABILITY COMBINED

Crafted from 1000D ripstop polyester with channel quilting for a cosy aesthetic, our Buster range of stable rugs come with detachable neck covers for adaptability and fixtures to attach rug liners as needed.

Part of the esteemed Buster collective, these rugs feature a high shoulder gusset, offering comfortable freedom of movement during stabling.
Shop Buster Stable
Lucanta Stable Rugs
WITHER RELIEF

The Lucanta range of stable rugs feature a forward cut neckline, which incorporates two integrated wither pads that sit strategically on either side of the spine to distribute pressure over a larger area.

A great choice for horses who suffer from sore or pronounced withers, the Lucanta rugs are crafted from a breathable 600D diamond weave polyester, with options available with a detachable neck cover.
Shop Lucanta Stable
Hydra Stable Rugs
INNOVATIVE VERSATILITY

Introducing our new Hydra stable rugs, crafted from 600D triple diamond weave polyester, with Teflon coating for stain resistance and moisture protection.

Beneath the luxurious channel quilting, these rugs include a protective membrane that repels water and moisture as required, ensuring added protection and comfort.